Owning a piece of art can be a pleasurable experience but if you can't find what you are looking for it can be very frustrating, and that is where commissioning comes in. Commissioning art can be a really enjoyable and exciting process for both the artist and the person commissioning the piece.
Commissioning Art – a simple process
The actual procedure of commissioning art is very straightforward.  
Somebody, let's say Alan Sugar, contacts me and explains what he would like painted, having looked at the kind of work I do.  I have a think and produce a few ideas – if it is portrait work then I may take a few photos.  Once both parties are agreed, then I would give a written estimate of cost, either framed or unframed and a timescale.  I would then take a 10% deposit, with the remainder on delivery.
I am currently accepting commissions so please get in touch if you would like to discuss potentially commissioning a piece.
Recent Commissions
I have worked on a few commissions during the last few years: the biggest pitfall is if someone has a very clear idea of what they want, and it isn't really in my style.  Then it requires a bigger leap of faith on the part of the commissioner.   As much clarity as possible is the key.
So if you think you might be interested in commissioning a piece please get in touch; you are not committed to anything initially.
Some of my commissions
This picture was a 50th birthday present and the person commissioning had seen another portrait I had done and wanted something along similar lines.  A danger with Monoprinting as a style is that you cannot reproduce anything exactly as there are too many accidental marks which are outside your control.
A commission which taught me a great deal was this one.  A holiday photograph of a beautiful town in Mexico with dilapidated flat roofed houses tumbling down the edge of a hillside; very specifically famous for its pastel coloured buildings.  This was clearly a very vivid and cherished memory for that couple and my picture did not match what was in their heads.  And to be fair the photograph didn't really match what was in their heads either.  This is actually a first attempt, not the finished picture but I know they were a little disappointed, and therefore, so was I.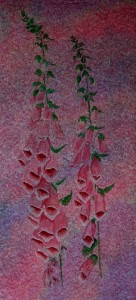 This picture was for my Mother.  All she said was she would like a picture of flowers.  Easy!