I can hardly believe it is that time of year again.  Emma Ablitt and I have exhibited together with Oxford Artweeks for the last five or six years so we reckon we have it down to a fine art (no pun intended!).  However, it still always takes me by surprise how much of one's time is taken up with the peripheral things that aren't actually making images – so, framing, mounting, signage, personal statements…the list goes on.  I have just lately been having a go at carving in soapstone.  I am really enjoying it but it brings its own set of problems – how will I display them and do they need attaching to their base in some way?  Decisions decisions!   Anyway, I have collected the last few of my pictures from the framers, added the finishing touches to my paperwork and then I should be pretty much ready for the big hang.  Artweeks are a great opportunity to show friends and followers what you have been doing through the year so I try to put a selection of all the different things I have attempted over the months.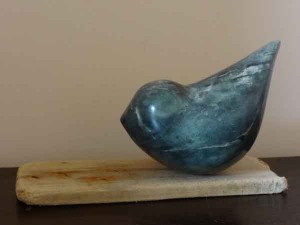 This year I have a handful of carvings, quite a few linocuts and monoprints, and some pastels.  I am generally reasonably pleased with the selection so hope people like them.  It is incredibly useful to get feedback from ones audience and if people are enthusiastic about one direction then I will often go back to the studio and pursue it further.
Setting up starts next Wednesday and we continue the exhibition from 15-25 May – please do drop by and say hello if you are in the area.  Details on the Oxford Artweeks website.