Just before Christmas I discovered a form of printing that was quite new to me – White Line Woodblock.  I thought I would do a post about it because it is really low tech and could easily be done on the kitchen table which makes it beautifully accessible to anyone.
It was dreamed up in America in 1915 as a way of getting multi-coloured prints from a single woodblock, using watercolour.  There is a good explanation online at www.barenforum.org so I won't go into too much detail, other than to say that they fix the paper with screws and I do it with masking tape (pic below): sorry it is a little indistinct but it is japanese paper, hence you can see the woodcut underneath and is attached on the left side.
Key top tips I have learned so far:
damp the wood before applying the watercolour.
Use a paper that is absorbent, not watercolour paper.  Blotting paper works really well, interestingly.
apply thin layers of colour, working from light to dark.  Depending on the effect you want, let the paper dry in between applications.
Plywood woodblocks are very adequate, and don't forget you can use both sides (but not at once!)
Because you are working on one section at a time you can apply as much colour as you like.  Go mad!
There are surprisingly few artists working in white colour woodblock.  I think it has huge possibilities especially if combined with monoprint for example.  I have attached a few of my efforts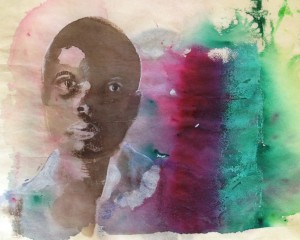 just to give an idea of the kind of variety of effect that can be achieved.